Walking, in itself, is not bad. You do that every day while running errands. Besides, it's also a good form of exercise to keep the body in good shape. It also speeds up ital. metabolic processes related to diet, blood flow, and respiration.
Here's the thing; if we all walked on air, there'd be no complaints about foot, joint, and ankle pains. Unfortunately, we walk on the hard grounds-sometimes made of concrete. For this reason, you might ask yourself the following question…
Is walking on concrete bad for your feet?
According to many therapists as well as common knowledge and personal experiences, walking on hard concrete floors for long can be bad for your feet. Sadly, that's where you work from every day-talk about retail shops, restaurants, bars, supermarkets, and industrial. They are all made of an inflexible concrete floor.
This means workplace safety must be considered-especially for those working long shifts. Let's go over a few issues that come with standing on hard floors for long.
1. Foot discomfort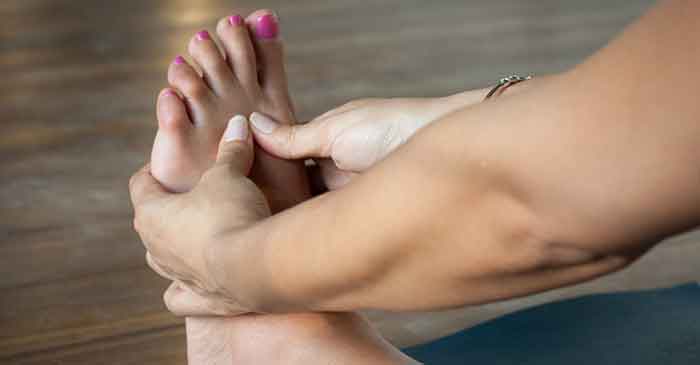 No matter how perfect your feet are, you are still susceptible to foot discomforts. This normally happens towards the end of a long shift. The pain might persist for a few more hours after work. Those who walk barefoot are even at more risk of sustaining fractures or weakened bones.
Foot discomfort is common amongst many people because concrete floors don't absorb impact. That duty is left to your foot's heel and muscles. Therefore, it's expected that at the end of the day, your feet will feel sore. 
2. Lower-leg pain
The body is connected by nerves. As such, the pain and discomfort you feel in your feet can be transferred to the calves and joints. Suppose this goes on for long, guess what you would be looking forward to? Arthritis. If you already have this condition, make sure to invest in a few pairs of arthritic feet shoes.
3. Shin splints
Shin splints are common among runners, trainers, and anyone who hits the gym frequently. Unlike everyday walkers, those on training routines hit the ground harder and repeatedly. To make the matter worse, some of them don't even have trainers and running shoes meant for concrete floors.
As they keep on pounding the concrete ground, trainers will start to exhibit muscle spasms and stiffness, inflammation, and joint pain.
4. Knee pain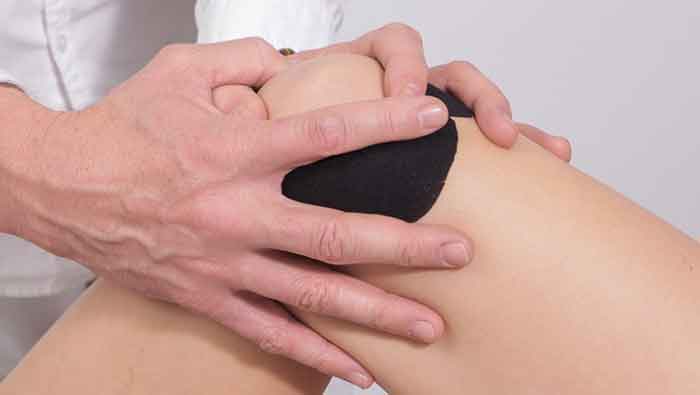 Are you 30+ years old with an active lifestyle? Do most of your workout sessions happen on concrete floors? If you answered yes to these two questions, we've got news for you. If you don't have knee problems already, then it's just a matter of time.
Anyone above 30 years should train on softer grounds or adopt a workout routine that lasts a very few hours. Ignoring this advice can lead to future joint problems like osteoarthritis.
5. Stress fracture
Concrete floors plus intense/ long day workouts or walks equals stress fractures. The tendons in the feet and joints are not well equipped to absorb impact. So when you spend a lot of time on hard floors and in bad shoes, you are leaving them no choice but to jump in and do work (that they are not supposed to).
Stress fractures, if not attended to, can result in both short and prolonged downtimes from your daily activities.
6. Neuroma
Mortons Neuroma attacks the ball of the foot and the zone between your third and fourth bone. Its sharp pang feels similar to having a sand pebble stuck between your toes. This condition is not caused by walking on hard concrete floors. The problem is, it gets worse on hard floors.
7. Plantar fasciitis
Online research indicates that approximately 2 million people in the US complain of plantar fasciitis pain. Worldwide, 83% of those aged between 25 and 65 will at one time complain of plantar fasciitis. Yes, those stats are scary.
Now, for those working on concrete floors, your chances of aggravating the fascia muscles is high. Make sure to wear supportive shoes with better cushioning. If you look around this site, you can bump into some of the finest sandals for plantar fasciitis as well as neuropathy and other foot problems.
Walking on hard floors is also bad for conditions such as bunions, ingrown toenails, Achilles tendinitis, lumbar strain, back pain, and skin irritation (from worn-off carpets).
We have discussed problems to anticipate when walking on concrete floors. It would only be fair to also point out the right tips one can follow to avoid foot pain associated with walking on concrete floors.
Tips to prevent feeling pain when walking on concrete floors
If you are always on inflexible concrete floors, here are a few ways you can keep pain at bay:
1. Buy well-cushioned shoes
The biggest problem with hard floors is that they are inflexible. Because of this, your feet are left to take the toll by absorbing impact. So basically, with amply cushioned shoes, your feet will not be in harm's way.
Everyone who is alive today has many reasons to celebrate. One of them is that there is a shoe for practically any profession. Some of the common choices include shoes for walking on concrete, running shoes for concrete, dance shoes, and even house shoes. 
2. Spend more on quality
You want to never feel pain and stay for the rest of your life with healthy feet? Then spend a few more bucks on top-quality shoes designed for smooth walking and running.
3. Flexible sole
Concrete floors are already hard. Your preferable sole should be ultra-flexible and made from rubber. Consider great traction if those floors are slippery.
4. Cut down your weight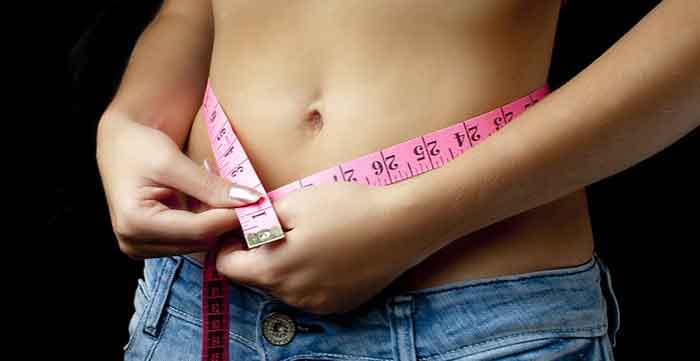 It's not right to beat yourself up over your weight-especially if you have tried so much to lose some. What we can tell you is that besides high blood pressure and other ailments, being overweight means your feet handle a lot. That's why they are always hurting. Just keep working on finding the right weight-loss regimen for yourself.
5. Avoid bad shoes
Bad shoes are those that lack adequate comfort. Heels and poorly-fitting shoes also belong to this list. Whatever you buy, make sure it prioritizes comfort and lightweight design.
6. Take some time off
Whether your foot pain arises from medical conditions, pregnancy, or bad shoes, the first step to relief is taking some time off. Once the tissues and muscles are relaxed a bit, you can keep on with your activity.
7. Swap shoes
Practice the habit of wearing different shoes every day. This ensures your feet are not subject to bad support or cushioning every single day. If any of your pair starts giving in, replace it ASAP.
8. Use anti-fatigue mats
There are good reasons why you hit the gym or go to work every day. So if you can't avoid those hard floors, then invest in anti-fatigue mats to lessen the direct impact with hard floors. This method is ideal for those who work or work out in a small area. If you are always covering many steps, then you might try other methods.
9. Wear supportive socks
Socks have several functions. They absorb moisture, improve comfort, and provide a better fit. For those with painful feet, compression socks have amazing impact absorption and will help you get to the end of the day with little to no foot discomfort.
10. Invest in insoles
Sometimes insoles get beat up pretty fast than the rest of the shoe. And for some pairs, the built-in version is at times too thin to offer proper support and comfort. In both cases, you would need to invest in plush insoles to bump up comfort.
11. Do less work 
If it comes to a point where your feet hurt pretty badly, you might want to do less work and more rest. This allows the muscles, tendons, and other foot tissues to recover from previous stresses. Where possible, seek professional help.
Wrap Up
Spending a lot of time on concrete floors hurts your feet. If you keep feeling this pain every day, it's about time you look into the best everyday shoes with supreme comfort and support.
If your condition is as extreme as plantar fasciitis, neuropathy, or Morton's Neuroma, you'll need the advice and help of a professional medical doctor. All in all, always take great care of your feet so you don't have to miss work or important duties because of poor mobility.
Related Resources: